Fishing Charters and Tours in Waianae, HI
The talented and hard-working crew of Live Bait Sport Fishing has a lot of success with fishing charters and tours. Our team has the knowledge and expertise to provide you an unforgettable fishing adventure. The crew includes owner and veteran Captain Shannon Frazier, Captain Jerrold Michael McNulty, Captain Stephen Pryor, and Nami Nishikawa Frazier. Whether you're an experienced or novice fisherman, Live Bait Sport Fishing will try to provide everyone the opportunity to catch a fish.
Give us a call today at (808) 696-1604 or (808) 479-9016 to book a reservation.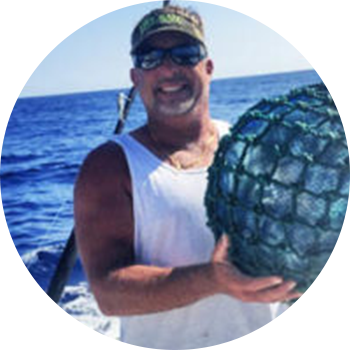 Owner/Captain Shannon Frazier:
Shannon has been fishing most of his life. He has experience fishing in Cabo San Lucas, and for over 35 years he has fished in Hawaiian waters, including Oahu and Kona. In early 1997, he started fishing on the Live Bait with Captain Dale Simmons off the Waianae Coast. In August 1998, Shannon purchased the business from Simmons and has been the owner and operator ever since.
As an angler, Shannon has a lot of experience with fishing charters and tours, catching fish such as Yellowfin Tuna, Wahoo, Spearfish, Mahi-Mahi and Marlin. As a captain, he enjoys sharing the excitement of big-game fishing with other anglers on their fishing adventure. He also holds the title of catching the biggest fish in the legendary Ahi Fever Tournament in Waianae.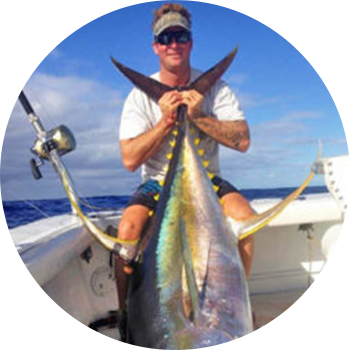 Captain Jerrold Michael McNulty:
Jerrold, born on January 8, 1987, grew up on the ocean, sailing around the world with his parents when he was 8-12 years old on a 38-foot trimaran and owning his own by age 9. A 2005 graduate of Waialua High School, he was an all-star football player as well as a swimmer. After graduation, he started to work on charter boats as a deckhand, improving his already impressive fishing skills.
In 2009, he attained his captain license and has been running fishing charters and tours ever since. Jerrold joined Live Bait Sport Fishing as a captain in 2012. He has had an extremely high success rate in catching fish from Ahi to Marlin. A surfer on his days off, he is full of aloha and loves promoting the excitement of fishing to anglers.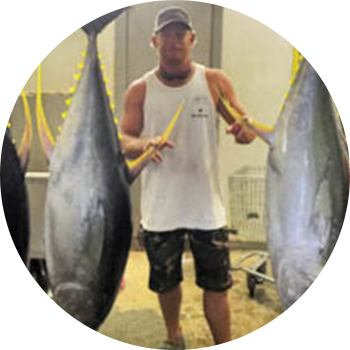 Captain Stephen Pryor:
Born on the East Coast, Stephen grew up fishing the tidal rivers and bays of the Chesapeake watershed as well as in the ocean off the coast of Virginia. Stephen is passionate about surfing, diving, fishing and showing people a great day on the water. After years of experience fishing in Hawaiian waters, Stephen is in love with the big game sport fishing opportunities this beautiful part of the world has to offer.
Whether it's cranking in Ahis, baiting up Mahi Mahi or hunting for trophy blue Marlin, Stephen will be there to make sure each angler has their best chance to catch a fish.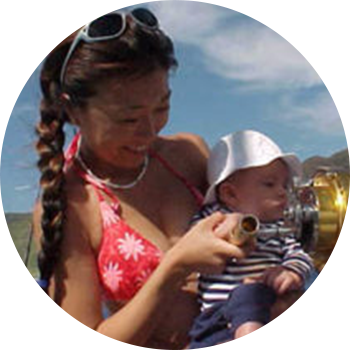 Nami Nishikawa Frazier:
Because of her love of the ocean, Nami earned her marine biology degree at the Tokai University of Marine Science in Japan. She spent her last years of college researching the spawning behaviors of corals and rock cods at the Okinawa Research Center. Nami makes reservations for the fishing charters and tours and promotes Live Bait in addition to doing other office work. She also interprets for any Japanese clients.
Her motto is "Respect the ocean, and she will give you back the pleasure of nature."