Fishing Charters on Oʻahu, Hawaiʻi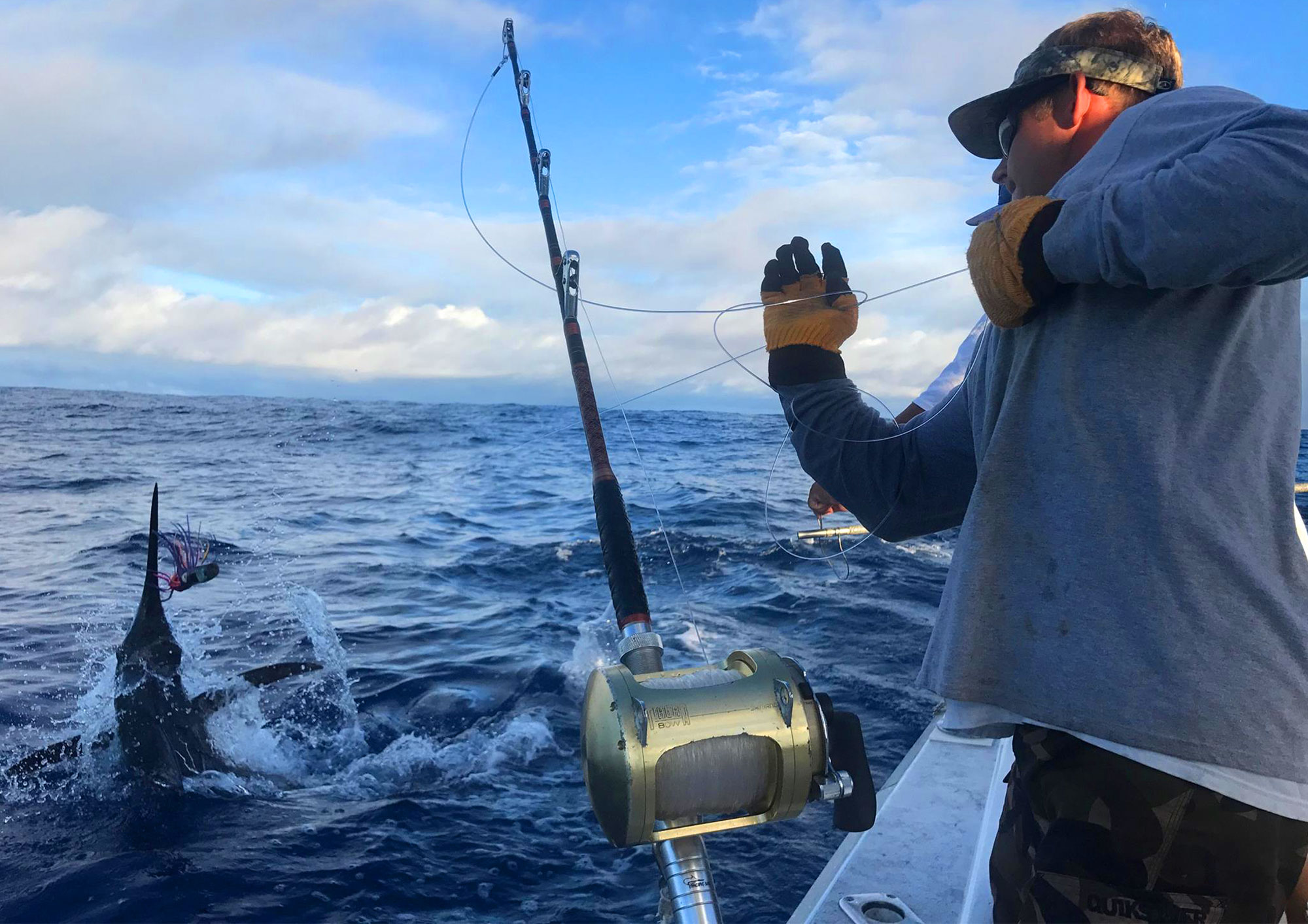 Looking for Things to Do in Honolulu, Hawaiʻi? Charter a Boat!
There are many adventurous activities to experience on Oʻahu. Deciding what to do can be a difficult decision. You can ride a jet ski, swim with dolphins, go snorkeling, parasailing, take helicopter tours around the island, kayak, zipline, or go whale watching just to name a few. However, chartering a boat with Live Bait Sport Fishing provides you with an opportunity to experience a few of these adventures in one excursion. Book an exciting deep sea fishing charter while also enjoying scenic views of Oʻahu only seen from the ocean. You might even encounter dolphins and whales during your fishing trip. You may experience the adventure of a lifetime by reeling in a record-setting catch. In addition, we can mount your trophy catch so you'll always remember your angling achievement and get charged up for your next fishing trip.
The Best Fishing Charter is in Waiʻanae, Hawaiʻi
Located in the Waiʻanae Boat Harbor since 1985, Live Bait Sport Fishing has a strategical advantage over the Honolulu fishing charters. This advantage has resulted in Live Bait Sport Fishing being ranked as one of the best fishing charters on Oʻahu for nearly 35 years.
The Waiʻanae Coast is nearer to the prime big game fishing grounds compared to the Waikiki fishing charters. The island of Oʻahu has the privilege of being a gathering spot for large pelagic predatory fish such as Ahi (Tuna), Mahimahi (Dorado), Ono (Wahoo) and the world-renowned trophy catch; the 1,000+ pound Aʻu (Marlin). These fish continually migrate in deep blue ocean water, and when their migration is interrupted by an island, they tend to swim to shallow waters to feed. The Waiʻanae coast of Oʻahu is such a place and drastically increases your chances to encounter a large concentration of big game fish.
Live Bait Sport Fishing combines ancient Hawaiian fishing traditions with modern and innovative fishing techniques.
Join us aboard the Live Bait; we offer full and half-day fishing charters to accommodate your needs.
Want to Catch the Huge Fish?
Established in 1985, Live Bait Sport Fishing is a family-owned business that has been providing fishing charters for nearly 35 years. Located in the Waiʻanae Boat Harbor on the west side of Oʻahu in the Hawaiian chain, we provide the opportunity for anglers of all levels, from avid to beginners, to catch the fish of their dreams. We offer deep sea trolling with light to heavy tackles, lures and live bait. Ranked as one of the best charter boats on Oʻahu!

Testimonials
Fishing Charter Reviews
"On Monday 19 Dec 2016, we charter Capt Shannon and his deck man expert Steve to go out and do some deep sea fishing. Well, we were not disappointed at all the fishing was excellent 11 nice fighting yellowfin tuna. What a day and catch. These guys are commercial fishing so they go after the best fish. Saw a competitor bottom fishing with tourists in the area while we were bringing these boys in. Highly recommend. The seas were a little choppy and rough but the fish cooperated. My hats off to them both. Great boat and equipment. Design for real fishing." -Greg W

Contact
The Top Fishing Charter in Hawaiʻi Today
At Live Bait Sport Fishing, your safety, enjoyment, and comfort are our main priorities. Our fishing charters are one of the most fun and exciting things to do in Hawaiʻi.
Our office hours are from 8:00 am to 8:00 pm daily Hawaiian Standard Time. If you would like to make a reservation or have any questions regarding our fishing charters, please call us at
(808) 696-1604 or (808) 479-9016.
You can also send us an email at [email protected] (preferred) or [email protected]
B-day gift from the sea for Cap with 'Jojo lure'! #Ahi #yellowfintuna #maguro #trolling #livebait #birthday ... See MoreSee Less

Happy birthday Shannon : did you ever make it to New England for Giants?
Happy Birthday from central USA buddy tight lines
Happy Birthday young man!! Wish we were there to have a cool one with you :))) Wes & Judie
Happy Birthday Shannon Frazier
Happy Birthday Shannon Frazier !!!
Happy birthday my friend. Hope u had a great day
happy b day from nor cal Shannon
Happy Birthday Shannon, I hope all is well. I hope you have a great day!
Happy birthday capt!! 🥳🥳🍻